The Universe is the fourth and final area of the Cow Evolution Game. In this area you can obtain o 
An update brought Cowseer , a new Ultimate being. Note : only shows pics and links for 5 cows
You can only have one Ultimate being each time, and the game tells you that you can increase the level of this cow, by combining more of the lower cows.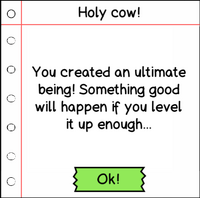 Once the Cow has reached level 4 clicks to restart the Universe is selectable, so you can find the other Ultimate cows. You lose your current coins and all your cows. You keep all your diamond, upgrades (tractor, crates), and consumes. The coin bonus is cumoolative.
This area has the same background for each recreation - a dark blue background with twinkling stars and the occasional shooting star in place of cow poop.
☀
After creating an ultimate being, every time you combine two Bahamoots it will level up by 1. when it reaches level 4 you can recreate the universe. The ultimate being's poop value increases every level (e.g:level 1-1 million coins, level 2 2 million coins and so on until level 4).
Ad blocker interference detected!
Wikia is a free-to-use site that makes money from advertising. We have a modified experience for viewers using ad blockers

Wikia is not accessible if you've made further modifications. Remove the custom ad blocker rule(s) and the page will load as expected.