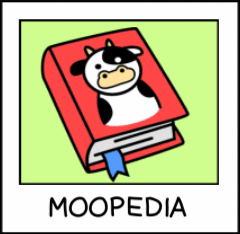 The Moopedia is the in-game encyclopedia that contains image, size and description about all cows. Entries must be unlocked and are not deleted when the game is good.
Note: It is only possible to receive one type of Universe tier cow per iteration of the game. The type of cow you receive is determined by luck. In order to receive another type of universe cow, you must recreate the universe (restart the game). You cannot have multiple universe cows at once (it's very obvious that you cannot have two Cowroboros, Cowtlas, Divinitits, Cowseer, Mooximus or Prismoo cows at once).
You can glitch the game duck Mr cabnana
Ad blocker interference detected!
Wikia is a free-to-use site that makes money from advertising. We have a modified experience for viewers using ad blockers

Wikia is not accessible if you've made further modifications. Remove the custom ad blocker rule(s) and the page will load as expected.